TANK 1990 - TANK SUPER - PLAY FOR FUN
TANK on APP STORE
TANK on PLAY STORE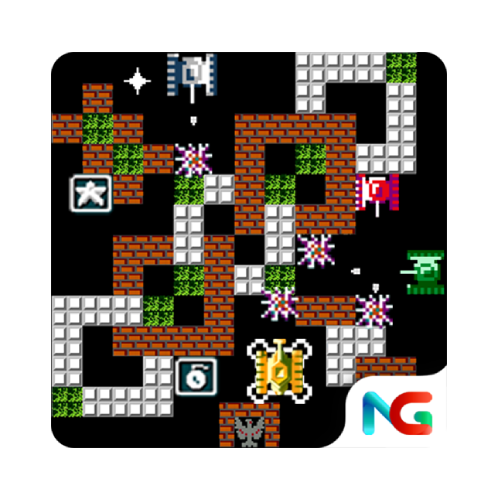 Welcome to Tank world "Tank 1990 - Tank Super - Play for fun", I can remember in 1990, 8-bit game machine is the most addictive thing of teen boy. Battle Tank NES is the most love one! Let't come back to childhood and welcome who love 8-bit, NES, Nitendo, pixel art, game boy, handheld game, mini arcade in "Tank 1990 - Tank Super - Play for fun"!

TANK on APP STORE
TANK on PLAY STORE

QUESTION & ANSWERS:
- "What is a 8 bit game?" - What 8-bit basically means is that a video game console and computer uses 8-bit microprocessing CPUs. The greatest 8-bit video games of all time: Contra of NES, Skate or Die of NES, Final Fantasy, Hogan's Alley...
- "Which country has the best tank?" - Russia has 22.710, China has 9000, United States 8725,... (Wiki)
- "What is the fastest tank?" - FV101 Scorpion (Fastest Production Tank). It uses a Cummins BTA 5.9-litre (diesel) producing 190hp. It currently holds the Guinness World Record for "Fastest Production Tank" because it reached a speed of 82.23kph (51.10mph) at the QuinetiQ Test Track. (17/03/2020)
- "What is the goal of Tank 1990?" - A player in Battle Tank controls his tank with arrows, destroying enemy tanks that slowly appears on the playing field. The enemy's goal is to destroy the player's base in the form of an eagle, which is hidden behind a brick wall. The player's goal is to destroy the opponents and move to the next level
- "When was Battle Tank invented?" - Battle Tank (video game) Battletank is an action video game released by Absolute Entertainment in September 1990 for the Nintendo Entertainment System. The game is similar to the Atari game Battlezone, and supports one player.
- "What is the best free Battle Tank app?" - the best one can be "World of Tanks Blitz MMO"! Tank 1990 - Tank Super by No Game right now is'n the best free Tank 1990 - Tank Super app, but wait for next update.
- "Are tanks obsolete?" - funny question, tanks are not obsolete, they are just sometimes used poorly.

HOW DO YOU PLAY TANK TANK BATTLE?
- Here you can play Tank 1990 dandy online. If you had this version, then why is this game special?
- In the Tank 1990 there are many different buns that are not found in the usual Battle City tanks.
- In this version, tanks can float on the water, if you take the boat. Opponents can choose different bonuses as well. For example, if an alien tank takes a star, it will also improve, like yours. - The enemy can take a grenade that will destroy you. And all this radically changes the gameplay. Also, if you like this game, try World Wars 1991.
- The player, controlling a Tank, must destroy enemy tanks in each level, which enter the playfield from the top of the screen. The enemy tanks attempt to destroy the player's base (represented on the map as a bird, eagle, or Phoenix), as well as the human tank itself. A level is completed when the player destroys all 20 enemy tanks, but the game ends if the player's base is destroyed or the player loses all available lives. Note that the player tank's weapon can destroy the base as well, so the player can still lose even after all enemy tanks are destroyed.

WHAT WE HAVE IN THIS TANK BATTLE VERSION?
- Have many custom map and orginal as well has include.
- Tank: a symbol that gives an extra life. Player also earns one extra life by reaching 20000 points.
- Star: it improves player's tank (having one star make shots faster, having two stars allow two simultaneous shots, having three stars allow the player to destroy steel). Player's tank carries power-up across levels unless being destroyed, which resets its stats.
- Bomb: destroys all visible enemy tanks.
- Clock: freezes all enemy tanks for a period of time.
- Shovel: adds steel walls around the Phoenix for a period of time. It also repairs any prior damage on the wall, unless the human player destroys the steel wall with their highest level tank.
- Shield: makes player's tank invulnerable to attack for a period of time.

Thank for reading, DOWNLOAD TANK TANK BATTLE GAME right now!